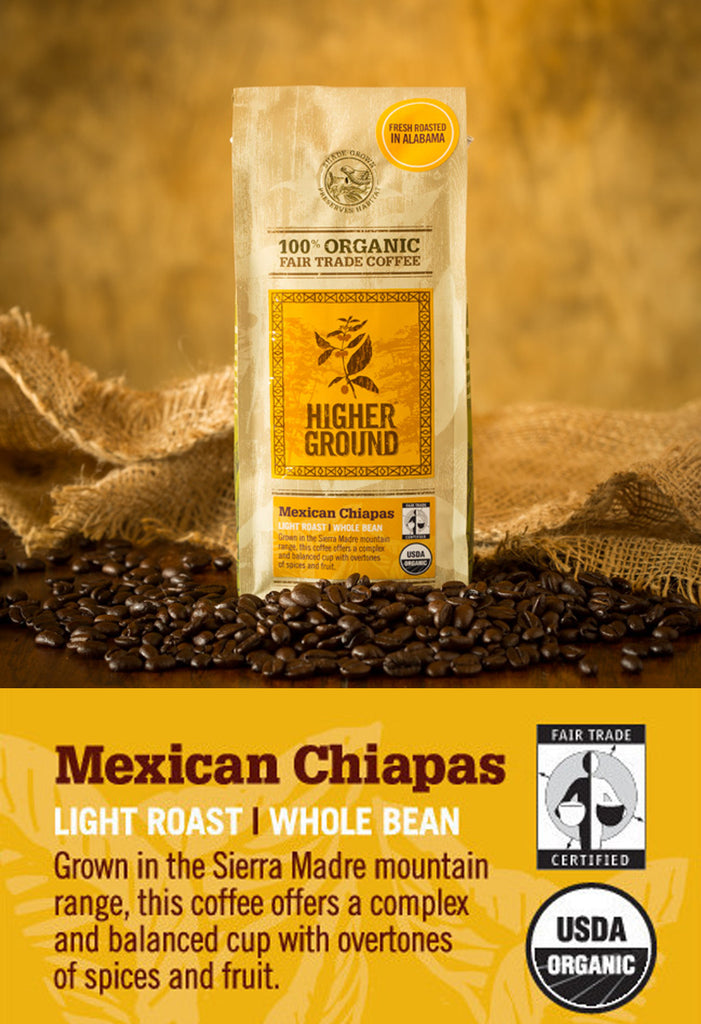 Mexican
$14.99
100% ORGANIC, FAIR TRADE, SHADE-GROWN COFFEE
BETTER BEANS
Grown in the tropical rainforests that characterize the Chiapas region, this delicate coffee offers a light to medium body with mild acidity. Exceptionally complex and flavorful, this Mexican coffee offers a balanced cup with overtones of spices and fruit. 
FAIRER MEANS
Fair Trade certification enables the farmers who grow our coffees to keep their family-owned farms and benefit from economic and educational programs, while growing a great organic crop. Our coffees are also grown in the shade of the forest canopy—preserving ancient forests and natural habitat for innumerable species of plants and animals.
Mexican coffee cooperatives emerged in the mid- and late-eighties, when the Mexican coffee industry was in crisis. Coffee prices were so low that many small-scale farming families could not survive. In response to the Mexican coffee crisis, 16,000 small-scale farmers came together to address the situation collectively. They created an independent cooperative to bypass local middlemen and export their coffee directly. They now sell much of their coffee to the Fair Trade market and are guaranteed a price that will support the co-op's member families. Higher Ground works with the families of the ISMAM (Indigenas de la Sierra Madre de Motozintla) Cooperative, and through Fair Trade sales, they have been able to accomplish the following:
Increase opportunities for education—all children of coop members attend primary school, and many have the opportunity to attend secondary school and beyond.
Increase average incomes—thereby reducing migration, keeping families together, and preserving local indigenous culture.
Purchase new equipment and build infrastructure for processing and transportation to the growing coffee market.