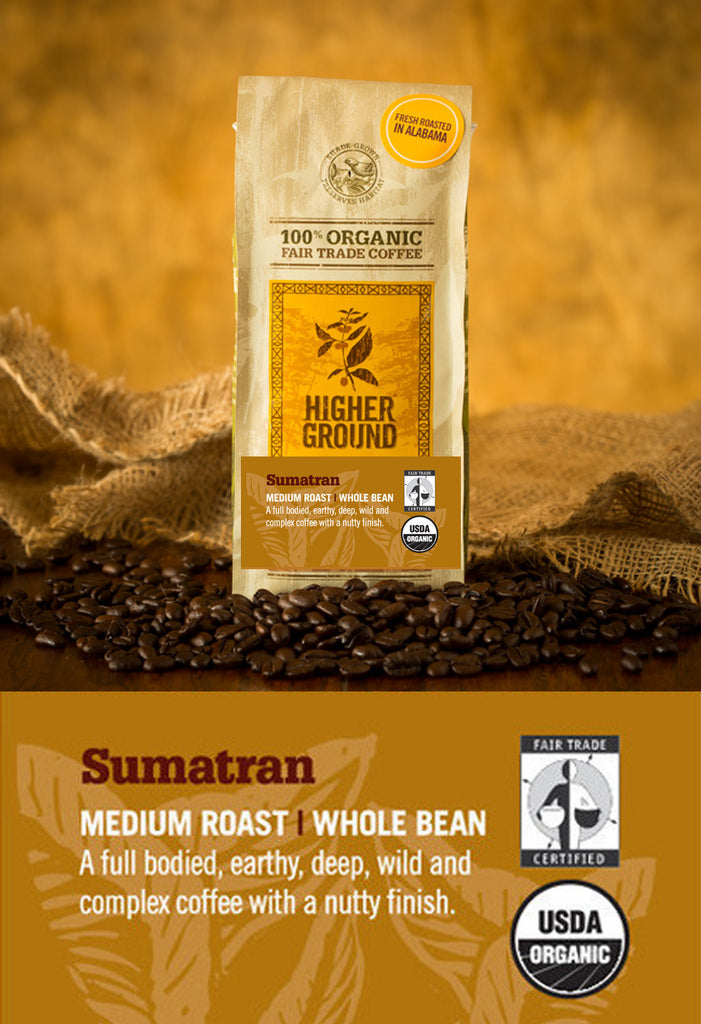 Sumatran
$15.99
100% ORGANIC, FAIR TRADE, SHADE-GROWN COFFEE
BETTER BEANS
With deep floral notes and a full body, Higher Ground's Sumatran Medium Roast is lighter, and characterized by a buttery chocolate aftertaste.
FAIRER MEANS
Fair Trade certification enables the farmers who grow our coffees to keep their family-owned farms and benefit from economic and educational programs, while growing a great organic crop. Our coffees are also grown in the shade of the forest canopy—preserving ancient forests and natural habitat for innumerable species of plants and animals.
Members of the Gayo Co-op are small-scale coffee farmers dedicated to producing 100% shade-grown, organic coffee. Significant premiums earned from selling to the Fair Trade and organic markets allow this co-op to contribute to a wide variety of programs, including: 
A credit union to extend small loans to families in the cooperative.
Upgrades to processing facilities.
Community infrastructure projects, such as clean water supply, local roads, and schools.
Rehabilitation of degraded lands and unproductive coffee trees, as well as income diversification with other shade grown crops.