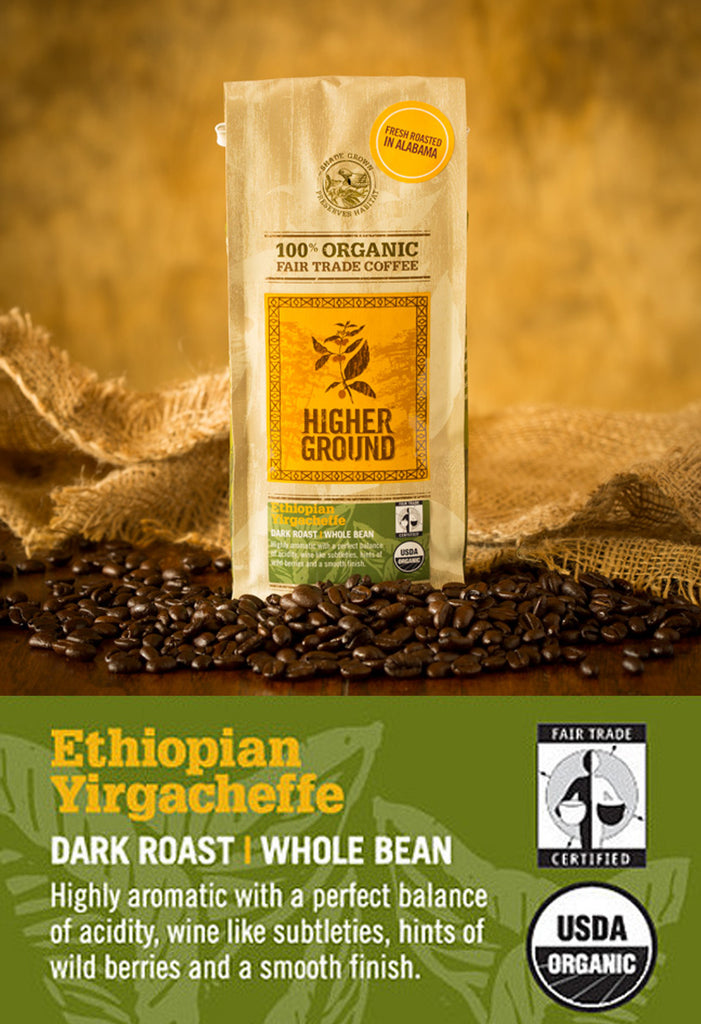 Ethiopian
$16.99
100% ORGANIC, FAIR TRADE, SHADE-GROWN COFFEE
BETTER BEANS
Our Ethiopian Yirgacheffe is grown in the small farming community just west of the town of Yirgacheffe. It has subtle hints of cardamom and vanilla. A full, sweet blueberry taste ushers in a delicate, soft-chocolate aftertaste. This coffee is a part of our Rare Earth collection and is in limited supply.
FAIRER MEANS
Fair Trade certification enables the farmers who grow our coffees to keep their family-owned farms and benefit from economic and educational programs, while growing a great organic crop. Our coffees are also grown in the shade of the forest canopy—preserving ancient forests and natural habitat for innumerable species of plants and animals.
Ethiopia, the birthplace of coffee, has more than 1.2 million coffee growers and more than 15 million households dependent on coffee for their livelihoods. Higher Ground works with the Oromia Coop, which was featured on the popular Black Gold documentary. Money generated from sales to Fair Trade markets help to implement many positive programs within the Coop, including the following:
Education regarding sustainable and environmentally responsible farming. The cooperative provides technical assistance to its members, including workshops on composting the by-products of coffee production and utilizing shade and natural fertilizers to enrich the soil.
Equipment purchases and repairs.
Food security. Members cultivate their coffee under shade trees, use hand pruning techniques, and typically intercrop their coffee bushes with other food crops, such as citrus and bananas, in order to preserve ancient forests and natural habitat.