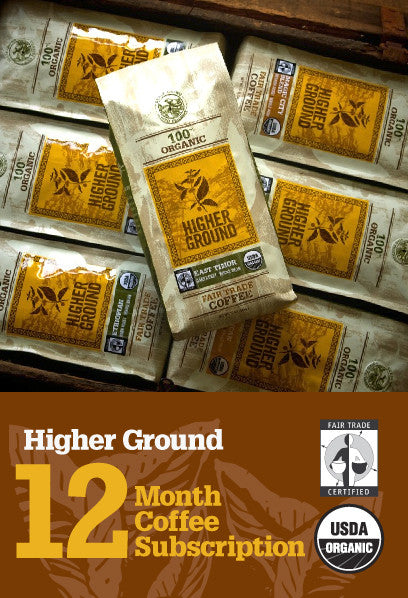 12 Month Coffee Subscription
$444.00
Save 10% off of retail!
$444.00 ($324.00 + $120.00 shipping)
100% ORGANIC, FAIR TRADE, SHADE-GROWN COFFEE
BETTER BEANS
Experience all the variety of origins and blends that Higher Ground has to offer!  Each month you'll receive two 12-ounce bags of Freshly-Roasted, Organic, Fair Trade, Shade-Grown coffee delivered straight to your door!  Choose the Standard Coffee of the Month for the full range of Higher Ground coffees, or the Non-Profit Blend of the Month, and donate 10% of the proceeds to Higher Ground's non-profit partners.
FAIRER MEANS
Fair Trade certification enables the farmers who grow our coffees to keep their family-owned farms and benefit from economic and educational programs, while growing a great organic crop. Our coffees are also grown in the shade of the forest canopy - preserving ancient forests and natural habitat for innumerable species of plants and animals.
If you have specific requests, please use the dialogue box to customize your subscription.
All orders placed after the 15th will ship out on the first of the following month.